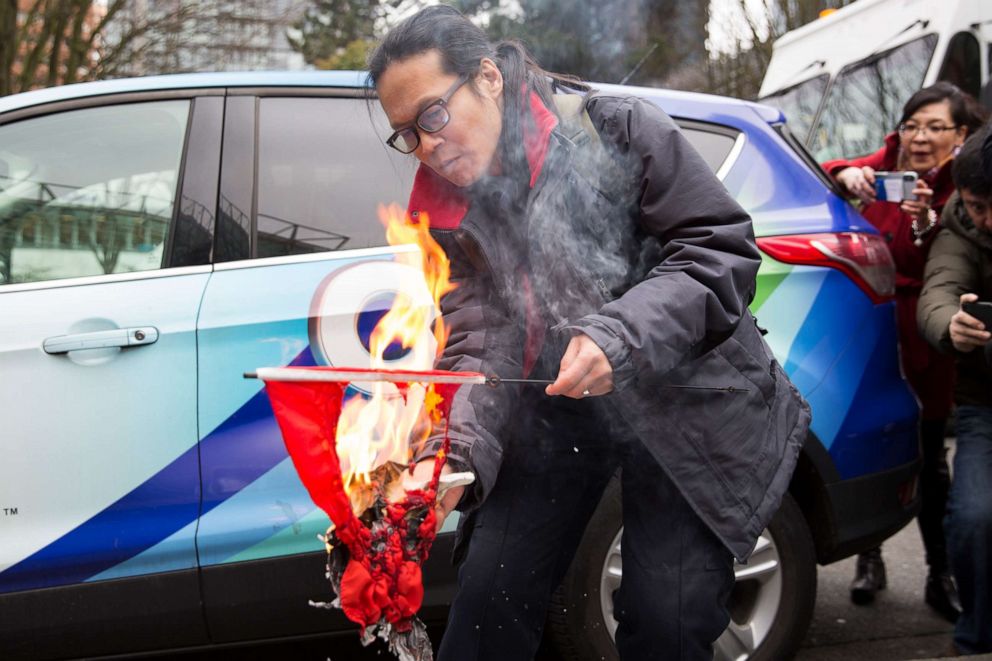 Her attorney, Scott Fenton, has argued that comments by U.S. President Donald Trump suggest the case against her is politically motivated.
Meng's defence lawyers said in a document presented to the British Columbia Supreme Court on Wednesday that they intend to apply for the stay of the extradition proceedings based on abuses that go beyond Trump's comments.
Trump has said he'd intervene in the case if it would help secure a trade deal with Beijing.
The lawyers also claimed Meng was unlawfully detained, searched and interrogated at Vancouver airport and her arrest was delayed under the guise of an immigration check. She is accused of violating US sanctions against Iran and defrauding banks by hiding such activities through a Huawei subsidiary. "We have maintained that her USA -ordered arrest was an unlawful abuse of process - one guided by political considerations and tactics, not by the rule of law".
On Dec. 10, China detained Canadian nationals Michael Kovrig and Michael Spavor, and has accused them of working together to "steal state secrets".
Canadian lawyer Richard Lee said Meng's lawyers will likely try to delay her eventual hearing, and that the civil lawsuit could be a part of that strategy.
Meng Wanzhou is due to appear in court again for September 23, and has received new bail terms which allow for her to relocate to a bigger residence, however, she will continue to wear a tracker and ankle bracelet.
Meng was released from jail in December on C$10 million ($7.5 million) bail and must wear a Global Positioning System tracker, an ankle bracelet and pay for security guards.
Brad Stevens Admits He Did a "Bad Job" Coaching Celtics This Year
Like we all can step back - this is the time right now We can all go on vacation, reflect on the season and learn from it. Players promised that things would turn around, and I was nearly convinced when the Celtics blew out the Warriors 128-95.
Donald Trump Jr. subpoenaed to testify before Republican-led Senate Intelligence Committee
Republicans and allies of President Donald Trump criticized lawmakers involved in issuing a subpoena to Donald Trump Jr . The source claimed that Trump Jr and Burr agreed at the time that it would be a " one and done testimony ".
Iran Begins Backing Out of Nuclear Deal
European Union leaders are going to meet on Thursday May 9 to discuss the implications of Tehran's move. Rouhani has it will lift the agreed 3.67% limit on the level of purity to which it enriches uranium.
Huawei Technologies Co.'s chief financial officer is set to return to a Vancouver courtroom Wednesday ahead of planned extradition hearings as deteriorating relations with China over her arrest exact a growing toll on Canada. For starters, her lawyers argued that the allegations against Meng are untrue.
Canada has refused China's demand to free Meng. Cole was the US deputy attorney general from 2011 to 2015, a period which coincides with when the Justice Department was collecting evidence in the fraud and sanctions-related case.
Washington wants to put Meng on trial on fraud charges for allegedly violating Iran sanctions and lying about it to United States banks.
United States authorities filed almost two dozen charges against Huawei, the area's 2d most spirited smartphone maker, and Ms Meng in January.
"The existing home is a corner lot, exposed on three sides, there isn't clarity between public and private portions", one of Meng's defense lawyers, David Martin, told the court.
"Extradition proceedings are not trials; they are meant to be expeditious procedures to determine whether a trial should be held", Mr. Gibb-Carsley stated, citing a precedent-setting ruling.
There has additionally been financial stress - China has halted Canadian canola imports and suspended the permits of two major pork producers amid the dispute. Justice Heather J. Holmes said she was not keen to defer applications for too long, as the court has an obligation to "move expeditiously", but the defense had made a strong case for needing more time. And her charter rights were seriously and repeatedly violated when she was arrested and detained, which was a coordinated effort of the Canadian police, the border agency and the Federal Bureau of Investigation. Meng plans to relocate on Saturday, according to an affidavit filed by her bail monitor.